Alchemy Gloves: Gloves that are always worn, even when not in battle, that allow Aramis to summon weapons in his reptoire. He simply focuses chakra in this formula on the palm and a weapon of his choosing appears in his hand.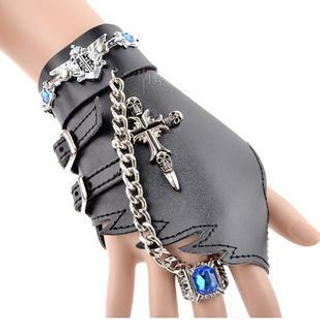 Schianova aka Sword: Aramis's favorite weapon. The sword weighs 15 pounds, which is fairly light for Aramis. He is extremely efficient in the art of the sword and knows several styles of sword fighting. His favorite style, relies on his sword's special quality. The inside of the blade is farily hallow. Enough for a five pound, 3 cm dense piece of metal to fit. The metal density of the metal magnifies the destructive force of the blade, tripling the force at the tip of the blade compared to the force at the middle of the blade, and quadrupling the amount of force, when compared to the force at the hilt. The metal can be released and retracted by activating a magnet in the hilt via chakra.
The blade is 36 inches long
Moon Scythe
The scythe's handle is seven feet long, and the blade itself is also 7 feet long curved. The weight of the blade is 25 pounds.
Ninja Tools:
Senbon
Kunai
Shuriken
Ninja Wire
*All weapons can be summoned via alchemy
*All weapons can be infused with elemental chakra