<<<Raiden continued to undergo Inertia's energy detoxification process for over 48 hours and he was finally starting to see results. He no longer witnessed the quantum light show when the Godwave entered his body. It was taking longer for his chakra to drain away and the Godwave was able to reside within his chakra flow for longer without producing chakra burns. Raiden also remained on his feet throughout the process, feeling nothing but the lethargy that came within chakra drain of this magnitude. Inertia seemed thoroughly pleased with Raiden's progress and wanted to take his training to the next level>>>
~Inertia allowed the godwave to fill Raiden chakra flow and took her hand away from his once more~
" Your body is now attuned to my frequency of the Godwave. Right now you are imbued with both its power and its burden. Right now your body is being pulled in the most deliberate path the universe intends for you to take".
~Raiden began to sweat heavily as the hairs on his arm began to stand up and his muscles began to tense up it felt like he was being pulled at every angle humanly possible. His whole existence was being stretched outward into infinity.
Inertia walked 7 steps away from Raiden and motioned him towards her~
"
Prolonged exposure to the godwave in your current condition chakraless condition will tear your body apart at the atomic level in one hour. Impress me Crimson Typhoon make it over to me so I can replace your chakra or die a horrible death 1000 times over. I will not come to your aid nor will I listen to any of your cries of agony...... In fact."
~Inertia waved her hand and 2 clones zapped into existence beside her~
"My two lovely assistants will be making your trek that much harder"
~Clone 1(C1) emitted a blinding light from her forehead while Clone 2(C2) closed distance to Raiden. Raiden tried to move his arms in order to defend himself but they met with resistance on all sides like he stuck to magnetic plate. C2 struck Raiden in the belly with a punch that felt like all of his insides were being slammed against his spinal cord but he didnt move an inch.
Before she was able to follow up with another punch, with what seemed like little effort, Raiden side stepped the punch and delivered a right hook to C2's jaw sending her spiraling to the left of him~
"Why wasnt i able to block the first attack. That punch felt like my body was moving on its own"
~Raiden tried to take a step towards Inertia but was met with kick to chest by C1, once again not being moved an inch by the blow yet feeling the pain of its impact. He ducked down under C1's following spinning heel kick and swept the opposite leg knocking her off of her feet. He reached up, grabbed her neck and leg, took a strong step forward, and executed a textbook swinging neckbreaker that sent her flying towards Inertia.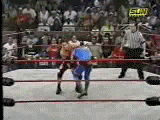 ~Raiden as starting to find a rhythm within this fight. His body was moving in this way for a reason he just needed to figure out how and why because he was stuck in his spot again and the clones were ready to attack once more~
"This energy feels like it wants me to go every which way at once. It has me second guessing my movements but isnt allowing me to move backwards at all."
~Raiden tried to knead chakra to create a red spear in his right hand but his Crimson Current fizzled out in his palm.
In that instant the clones were already on top of him~
"Shit, I forgot i dont have any chakra."
~The clones unleashed a barrage of punches on both sides of him hitting all of his joints and chakra points. They wasted no energy in any of their strikes. Every blow was delivered with deliberate motion to point where it would do the most damage.
They took a second to regroup admist the glorious ass whooping they were delivering to Raiden's body leaving him limp and still standing. His entire body was excruciating pain. He looked down and saw a puddle of blood. The clones had stuck him so many times he not only lost track of the blows but time as well. They had whooped his ass without moving him from where he stood~
"I told you I'm not going to stop until the Godwave rips you apart. If you dont get moving you will die today you have 6 steps left"
Inertia said coldly
~Raiden noticed that his face was still intact. Not a single blow was landed above his neck. All of the pain was in his lower body and extremities~
"Maybe im going about this the wrong way", he thought to himself. He was allowing the Clones to dictate the battle so far and had made very little progress. "All i have to do is take a couple steps why is that so difficult", this gave Raiden an idea.
~The clones where on the attack again this time sliding into his legs hoping to knock them from out under him. Raiden leaped forward into the air narrowly dodging them both and brought his palms down directly into their faces shoving their heads into the ground and handspringing himself upright. The clones returned to his sides looking to deliver kicks to his chest and groin. Raiden slipped between the strikes and punched C1 in the face while extending leg and caught C2 in the chest. His forward and lateral movements were bringing him closer to Inertia and giving him the upper hand in the battle. It was simple making more to Raiden to move forward on his own his according then wait to react to the clones attacks~
"4 more steps and got you" Raiden said coughing up a bit of blood. The day had taken his toll; at this point he was running on fumes and the clones just kept coming faster and faster. Raiden knew his next move would have to be something drastic or he may not make it through this trial.
~The clones were as persistent as ever but since Raiden was only moving in a ways that were proactive to his goal it was becoming harder for the clones to hit him but that did nothing to persuade them from trying and it didnt seem like they were running short on idea on how to stop him from progressing any further.
In what was almost an act of desperation Raiden jumped in the air as high as he could, pursued steadily by the clones. He relaxed his body midair and began to plummet like a rock. He was no longer moving to achieve his goal so the Godwave decided to try to "reset" him by bringing him to the ground. Raiden used this momentum to catch both of the clones by surprise around their necks, angled himself towards Inertia and let gravity do the rest of the work. Raiden choke slammed them both right before Inertia's feet~
"That was way more than seven steps" Raiden said exasperatedly
"I know sweetie but you did it all the same. Now sleep"
Inertia said touching his forehead putting him to sleep instantly