knock knock..
Arise my Prince and Princess.
The doors of his lavish room would open, a tall elegant woman would enter his room. She was dressed in a golden dress that glistened off her rich brown skin. Nazuma slowly rose and on the opposite so did a silver-haired girl as she spoke. They came to meet the head of the royal guard Rossoren Tehran Urso, she would open the large red and golden silk curtains that hid the suns gaze from reaching them. It was a warm day as clouds bustled through the Kingdom of Denkai. The skies filled with the Airballon ships that carry the residents and visitors of the land.
Nazuma reached his arms high in the sky. He could feel the pop of his bones and feel the relief of tension in his body from a night out with Daitsuya. The boy would turn and get out of bed, he felt the cold granite tile floor on his feet, it was somewhat relaxing to him. Allowing him to wake up fully. He wore robes of the finest fabrics, the ice haired prince would come to meet his friend.
Enough of that prince stuff R.T.; you and Daitsuya are just as royal as I am you guys are the same as me..
The boy said as he was joined by Daitsuya. He looked to her and smile. He looked at her golden brown skin, it was perfect, it complemented her plush pink lips and white teeth. Her skin smooth to the touch. A natural beauty of her race and her body was what a woman wanted. She was his queen. Daitsuya Amari Flonne Denkai. As she rose from the bed to join Nazuma in the middle of the room, she remained quite allowing the others to speak amongst themselves. This was odd for the girl is normally the more energetic person. However today was a important day. Nazuma was to go to trial in 14 days, and that seem to be on their minds now as the count down begins.
Rossoren would have a smile on her face she looked at the future King. She only had thoughts of hope for him. He brought a persona she hadn't seen in a king in awhile, never understanding how his heart dances so gentle.
Only would blush at the sight of the two of them. She had been the protector of the two royals since they became engaged four years ago. She watched them grow up and have a bond that couldn't be broken.
She saw how Nazuma was growing into a fine young man. His skin smooth as a babys bottom. His silver hair always smelled of fresh Rose's and his gaze upon the sky mirrored in his eyes.
Yet the expression on his face was calm. He didnt seem stressed or worried about the coming days of his trial. She wondered what he was going to do. Only one who knows is his bride to be,she lost herself in him. He met Rossorens eyes with a smile and then looked once more to Daitsuya. He would place his hand on her chest and she did the same with her hand, around the bells of their feet a magic circle would manifest below them and another above them. The two of them stared into each other eyes completely motionless.
The circles began to rotate and engulf the two youths. Both of their appearances changed for an instant. Both of them donning red hair, Nazuma's eyes changed from amber to grey and Datsuyas a deep dark blue. Bith growing the wings of the fujin, This ritual was one of royal matrimony this was how Daitsuya qnd Nazuma souls sync and beat the same frequency.
Rossoren caught herself and quickly focused on aiding the two in getting ready to attend Ars Heaven.
The two of them would get dressed into their royal school uniforms. Nazuma would grab his gear. Items given to him at birth. His cherished Ruby encrested scarf from his father.
The special goggles made by his friend of Evant Black Urso and his windchaser sneakers from his mother. Each item meaning something. Each blessed by and sync to the souls of the gifters. He came to hold these items close, each had sentimental value. He used his Nein to hide his gear in a aura of wind magic. It looked as if the boy didnt have any of it on except his shoes.
Brégon...
With a thrust of wind Nazuma turned back to his normal state yet Daitsuya remained the same with only her wings vanishing. No one knows why she cant release her Valkyrie state nor why her wings aren't as large as Nazumas'. She is blessed by the fujin as is Nazuma through the ritual she does with him. Her control of wind magic isn't as proficient as the Ruby King himself but she is very skilled at basic powress.
The three of them would exit the room into the grand halls of the lavish palace of the House of Flonne.
Everyday Nazuma sees the halls he wondered when he first arrived in the Astral Kingdom, first how he often got lost in the royal wings,he could only be reminded of the things he has been doing the last fours years. The Astral house had become his home.
I must say each day I wake here is each day I wish to rest here. The day is so calm and relaxing.. Its alot of this happening today..
Well first off relax Nazu.. you're just meeting with the astral council to see who will be representing you during the trial.
Nazuma tended to be overzealous in his thoughts and she would always tone him down.
Well, I hope the council have pick someone good because Sheng is gonna hit them with everything possible. So far he has had a pretty good prosecutioner. This is the Astral Kingdom fourth representative they have shown me. Two weeks isnt long enough to build a Defense so I dont get hung by Sheng. Who has been working on his crap the last four years
Nazuma said as he showed a big emotional sigh. He and his companions came to the doors of the meeting hall. Nazuma could hear the debate going on between Queen Sha'ren and the Councilmen.
Why must the Prince return to the Ascension, Why must we constantly send our diplomats to oppose the King. You and your daughters have brought chaos to our Kingdom.
Said the Urso representative Arguse Salvador
Honestly, the two widows of King Darcovis Ri'ore and King Argoven Flonne. Have brought about Siegels beginning and since the death of Queen Argin the Denkai have no leader.
Fashioned the Gamallow leader.
You expect us to follow children M'lady. What is your plan? You havent said much this meeting. We the Denkai dont need a Ruby king right now. He should just put us all through the ritual of thy fujin.If his powers are true. I've only seen him Bless his bride why hasn't the Ruby Prince use his powers.I say if he is Thy Brother of Rai, he must bless more members of the house..
Indicated the house of Flonne Diplomat Zhanus Morgan
No one will stand, You all sound like cowards..If he dies the powers of wind magic will pass us and we wont be able to use it if and when he completes the path of kings. Not only can he bring back the true Valkyrie, he can also help in our strength as a Kingdom, given the four horsemen can come back at anytime.. if we can get proof that Nazuma can bless the Denkou with the power of the Fujin, he can live, Queen Onohall and Argin knew this and devised this plan. So long as he rules alongside Da...
Nazuma and his company would enter the room. It got dead silent as he was ushered in by Rossoren. He cut off his Grandmother as he entered.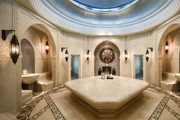 Nazuma looked the five council members. They all looked like rich snobs and In which they were. Each member was dressed in fine garments of silk and fine fabrics. Nazuma didnt like the way they dressed it was to flashy for him. No one took him serious so his tone was stern as he spoke to the council.
I shall decide my faith.. this is my path. I am not yet ready to bless the entire Denkai with the power of the Fujin. I still have to complete Onomichi... I can't do it without the Emerald King. For some reason I can only bless Daitsuya with thy heart of Fujin because she has a bond with me unlike any other in all of this Kingdom. She doesn't look to use this power for her own gain. She shares my beliefs. This is the pact we have made this is our bond. The power of the Fujin will not be abused by the likes of you, councilman.
Nazuma only angered the council with his words. Chaos among the council in the confines of the meeting room. They seen no reason as to why Nazuma wasnt able to bless more Denkou with the power of the Fujin. Yet he hasnt unlock his full power yet he needed the true emerald king he need his brother.
The noise came to a hault by the doors opening once more. In would enter a member of the guardsmen would enter.
Introducing Archshaper King Luvian Nocturne of Ri'ore