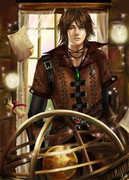 Name:Linomaru
Age:Unknown (looks about 18)
Hair color:Brown
Eye color: Black
Height:5'11
Unique marks:The Mark of The Trinity in the middle of his chest. A power sealed away. He yet not knows.
Parents: Khronus Tylamon
Race: Makaian
Central Pillar:I am from an alternate universe a timeline where Vescrutia is nothing but a wasteland. The wars of the future are my past. Life, Love and Lineage on Vescrutia is rare and the small nation of what is left is in constant conflict and destruction. Hell has become of the current timeline of my life. I have traveled the universe and have studied the confines of the great divine.They will see that I am what they need to bring down their most formidable opponents. I the last child of Light. I the last son of Khrona.
Contrast Pillar: I have lost everything to the war of Vescrutia. In order for me to save my world I must travel into the past and Fulfill my friend's dying wish. To Live in a world without The Trinity.
Active Pillar:I will show the Trinity their faith. I will stop the war from beginning. Searching for the current Trinity. I wants to collect their power to return to A timeline with out the Trinity.
Crossing Pillar:No one Linomaru is from the future where the warriors of today failed and destruction plagues Vescrutia. He honestly has deep hatred of the powers of the past.
Anthem:Shinseki Geiss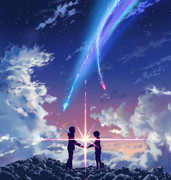 Shinseki- A power that is opposite of Naten. A energy granted to Linomaru by Solaris a contract that Linomaru has signed with that allows him the power of Geiss.
Geiss-the power of Geiss has something to do with the very existence of vescrutiankind, and it may be used to destroy, control, or transform just about anything. It bends and shapes reality to Linomaru command. It has hypnosis magic properties, that alters the targets senses, emotions and thoughts. They have no memory of being under the control of the Geiss.
This power can only be used once on a single person, it cant be used on someone if their will is greater than Linomaru's and Cant be used to kill his target. His Geiss can make someone attempt to kill someone else. He cant make the target kill themselves.
Trinity- Life, Love and Lineage. The laws of Linomaru's power.
Life- The first code of Linomaru's power. He is to persevere life and protect Vescrutia from the Trinity of current. He can create life in itself. Rebirth is the Name of the skill he uses to bring back that I which has lost life.
Love- The second code of Linomaru's Geiss power. This emotion is what fuels his Geiss. His love for Vescrutia has given him a heart that fills with her protection. This power allows him to control the atmosphere around him he can bend what ever he wants.(i.e. he can change wood to metal, water to fire, fresh air to toxic gas, earth into mud)
Lineage- Lin can pass the power on to the next person if he can't complete his mission. He is to continue to increase the power of his Geiss. To reshape reality to the will of the Divine. His power is sealed until he finds the other two parts of his Trinity.
Time manipulation- Linomaru can use his Geiss to enter the time realm. A place where every timeline starts. Its accessible to Linomaru However he can't go whenever he chooses. The time realm has a set schedule to open every year. Lin has only been twice. He is currently stuck in the current timeline of today awaiting his chance to return home in 1 year And can only be accessed through the Sands of Time flask being turn to where the sands falls.
Lin has cracked his hourglass and thus need to allow it to fix itself which takes a year of non use. Each time he does use it he risk increasing the damage.
Element Natures:Light, Sound, Gravity
Skills/Abilties: 
Shikai: A burst of light energy that can be used as an attack.
Shinsei- A spell Lin uses that Grant's him mind control.The target has to be looking Linomaruin his eyes.(one post)
Freon- a powerful spell that allows lin to control particles of light to bend in to weapons.
Weapons:
Nitos- A Katana that absorbs Naten and breaks it down into nothing. Lins direct link to the void.
Sands of Time Flask: a small hour glass that allows Lin to travel into the time realm without losing his memory or being killed. The gravity of time can only be withstood with this hourglass. Only those who lived through a time jump have a hour glass. There are infinate hourglasses each can take you to a different time in Vescrutias history.
When the glass is turned a door appears and the user may enter the realm. If the hourglass breaks the user will be obliterated by gravity of time itself. Having their soul erased from all of time.
Lin has cracked his so he cant return to his current time but he can still use it to go into the past or visit timelines before the current one. He can only stay in the past one week.(one topic)
He can only return to the current timeline.